Welcome
Message from the founder and chairman Helle Byrn
On behalf of our great team, I would like to welcome you to Marbella Design Academy. We are always at your service, working with passion and dedication to offer you an academically comprehensive and personally rewarding education.
All we ask of you in return is to make an equal effort to invest passion and dedication into your studies. With this exchange, you will be on track towards a very successful lifetime career in the creative field of design.
Marbella Design Academy is more than just a design school. Students and staff are working together in a friendly, family-like atmosphere with passion and dedication. We are not far from idea to action and we aim to constantly improve in every way possible to reach our goal of giving our students the very best education living up to the latest market demands.
Marbella Design Academy is really a unique place with beautiful and inspiring surroundings. The students' well-being matters to us just as much as keeping a professional academic level. Each student is supported individually as it is our desire and goal to nurture each student's different personalities and ideas, from their first sketches to their finished project.
Marbella Design Academy produces unique professional designers. Students enrol here from more than 70 different countries. You cannot avoid making lifelong friends and contacts worldwide.
Our aim is to lead each one of you on a journey to reach the highest standards of professionalism during your three years of study. It is also our aim to help you enjoy this journey to the fullest.
Since September 2014, Marbella Design Academy has offered Bachelor of Arts Validated Programmes in:
Fashion Design & Development
Graphic Design & Media
Interior Architecture & Design
As a student, you are enrolled on a programme that is validated and quality assured by the University of Bedfordshire in England. Marbella Design Academy is proud to collaborate with the University of Bedfordshire who oversees your programme.
The University of Bedfordshire has an enviable reputation in the UK and across the world, with similar partnership agreements with educational institutions across many countries, so you are part of a thriving global community.
Marbella Design Academy was founded in 1995.
In 2008 we moved to our new campus, which has been created with passion and dedication for Marbella Design Academy to be more than just a design school. The beauty of the environment has been an essential element in creating our new academy building. We strongly believe it is essential for our students to study in a location where the connection with nature stimulates all their senses.
The Academy is within easy reach of the village of Monda, and only 15 km from Marbella and the Mediterranean Sea. Nearly 90% of the students live in Monda during their studies. Our students do not need to spend valuable time travelling to and from their accommodation to their classes. They walk a few minutes in the sun through olive and almond fields. What a great start to the day!
As a modern design academy, the building lives up to all of the demands given to us by the Ministry of Education in Spain, which has state-approved our institution.
The University of Bedfordshire has also approved our building to be the frame for our Bachelor of Arts Validated Programmes. The campus has been designed as an inspirational place to think, create and learn.
On satisfactory completion and graduation from one of our three year Bachelor of Arts Validated Programmes, the University of Bedfordshire will award you a BA (Hons) degree, as if you had studied at a university in England.
Our programmes have been developed with professional experience  during more than 28 years. They are delivered and assessed by  Marbella Design Academy, with degrees awarded by the University of  Bedfordshire. 
Once the University of Bedfordshire has awarded you your BA (Hons) degree you can enter a master's degree at the university of your choice.
We are confident that your upcoming studies will be challenging, rewarding and, above all, enjoyable. We are sure your time at Marbella Design Academy will be one of the best times in your life and we are equally sure that a solid achievement on your programme will provide you with a positive start in your chosen career when you graduate as a professional designer.
The tuition is given in a professional, but friendly, environment where the individual student's cultural background and creative expression is respected and nurtured with huge care. Besides attending lectures delivered at a high academic level, our students also have a great deal of personal contact with their tutors. We teach our students to become professional designers with a strong individual style. Our excellent tutors give you the tools, and help you on the way, by building your self-confidence and providing support for you to solve your projects within the demands given. We do not create clones of the tutors; our biggest challenge is to educate you to be among the world's future successful designers in your own right. Allow yourself to think outside of the box and not to follow mainstream opinions.
Follow your design dreams through passion, hard work, dedication, research and by making the most of all your senses. Be innovative, and just go for it!
Above all, remember passion and hard work is the key to all success! I send you all my best wishes on your journey.
Helle Byrn
Founder and CEO Marbella Design Academy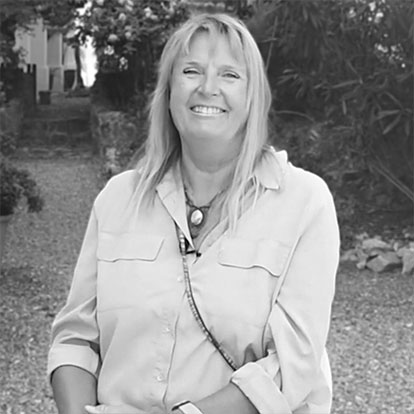 Helle Byrn
Founder and CEO Marbella Design Academy
Helle Byrn, is herself a Danish designer. Her academic background hails from Danmarks Designskole, where she received a degree as an interior architect in 1976. Since 1986, Helle has fronted her own design company, Helle Byrn Design, holding international patents in 24 countries.
In 1993, Helle chose to emigrate to the warmer climate of Marbella, in Spain. Marbella at that time was undergoing the beginning of a major building boom, during which higher education was an unexplored concept. In this context, in the spring of 1995 Helle Byrn had the foresight and decided to open an international design school in the area and hasn't looked back since.
Welcome