Our Academy Building
The Marbella Design Academy building was completed in August 2008. It has been designed entirely by the Founder, Helle Byrn, and in Andalusian style to integrate with the beautiful Spanish environment.
Our Academy building meets all the stringent demands and requirements of a modern design academy and, as a result, has received State Recognition from the Ministry of Education in Spain.
The building of 2.000m2, set up on 10.000m2 of private land, was created with attention to detail and many personal touches.
It is situated in Sierra de Las Nieves natural park, offering a direct connection to the beautiful surrounding nature.
During their breaks, our students can bask in the sunshine and savor a cup of coffee or a nutritious meal at our student restaurant. They can also watch the vibrant ducks swimming in our duck pond while enjoying the company of their fellow students and tutors.
Being a student
Marbella Design Academy is a diverse and cosmopolitan top-ranked school that welcomes students from all countries, religions and cultures, all sharing the same Passion for Design.
We foment a strong family ethic that prevails between students and staff, and we are proud to say that there is a strong sense of fellowship amongst our students.
The learning environment is friendly, imaginative and passionate. Students are taught by highly qualified and experienced professionals who support the students to reach their full potential and personal style as designers through encouraging each of them to be innovative and creative.
We provide the students with a stimulating and complete education that lives up to the latest and highest industry demands, leading them to a rewarding career as highly skilled and qualified designers, one of the most creatively satisfying career opportunities of modern times.
As such, our graduates entering the job market have a competitive advantage, leading to a consistently high employment rate among our alumni.
In such a vibrant and dynamic environment, you will discover you are not just another student and future design professional, but another member of the Marbella Design Academy family.
And remember: Passion is the goal of all success!
Inspiring minds
In today's world, professional designers have a significant impact on our lives. They create the visual expression of the utensils and artifacts we use and see every day.
It is impossible to escape the influence of modern designers. Their creative passion has resulted in compelling formats and objects that catch our attention, making us stop and contemplate.
Every item in your surroundings, including the clothes you wear, the computer in front of you, the chair you sit on, the glass you drink from, the magazine you read, and your home, has been thoughtfully designed to enhance functionality, aesthetics, and enjoyment in our daily lives.
Marbella Design Academy's Bachelor of Arts with Honours validated programmes teach you how to turn your imaginative ideas into reality.
Whether you want to design peaceful living spaces, chic clothing, or eye-catching product images, these programmes will equip you with the skills to challenge yourself and make your dreams a reality that will impress the world.
High academic level tuition
Our goal at Marbella Design Academy is to give students the full A to Z learning experience. We support them in developing their skills in hands-on workshops for the given disciplines.
The latest IT and CAS technologies are available, as well as a computer lab, resource room, and photographic studio.
Our academic programmes are constantly updated to the latest market demands from the fast-paced, design-oriented technological world.
We have intakes in September and January every year for our 3-year Bachelor of Arts with Honours validated programmes in:
Interior Architecture & Design, Graphic Design & Media and Fashion  Design & Development. 
Upon successful completion of one of these programmes at Marbella Design Academy, you will be awarded a Bachelor of Arts with Honours degree by our UK partner, the University of Bedfordshire.
Graduates then either embark on their own design careers as professional designers, or they can apply to enter a Masters programme at a university of their choice.
The 3-year BA (Hons) validated programmes offered at Marbella Design Academy have been carefully developed over 28 years; they are delivered and assessed by Marbella Design Academy, and quality assured by external examiners each year.
The academy also offers a 12-week Design Foundation Course to prepare students who do not meet academic requirements for our BA (Hons) validated programmes.
The Design Foundation Course starts in February, May and September of each year.
ACADEMY FACILITIES
As a modern design academy, the building lives up to all of the demands given to us by the Ministry of Education in Spain.
Marbella Design Academy is an inspiring place for students to think, create and learn. Its building facilities and location were carefully designed to provide an optimal educational experience.
The classrooms and workshops are fully equipped to meet the needs of its students, and are spacious and bright with large windows that offer stunning views of the surrounding nature.
Studying and working in this environment creates a joyful and lively atmosphere that is felt by both students and staff.
Approximately 2000 m2 constructed area, on a 10.000 m2  private nature park.
The building has a lift, ramps and facilities for disabled people.
Online Library access by PERLEGO.
Wi-Fi available in the entire building including in the student restaurant Gaudi.
Computer Lab equipped with Macs and PCs.
Resource room with photocopiers/printers, plotter and model making area.
Printers, Computers, Wide Screen Televisions and much more.
2 ample parking lots for staff, students and visitors.
Recreation area and big terraces with view to a small lake full of ducks and geese.
The cosy student restaurant 'Gaudi' serves international and healthy cuisine.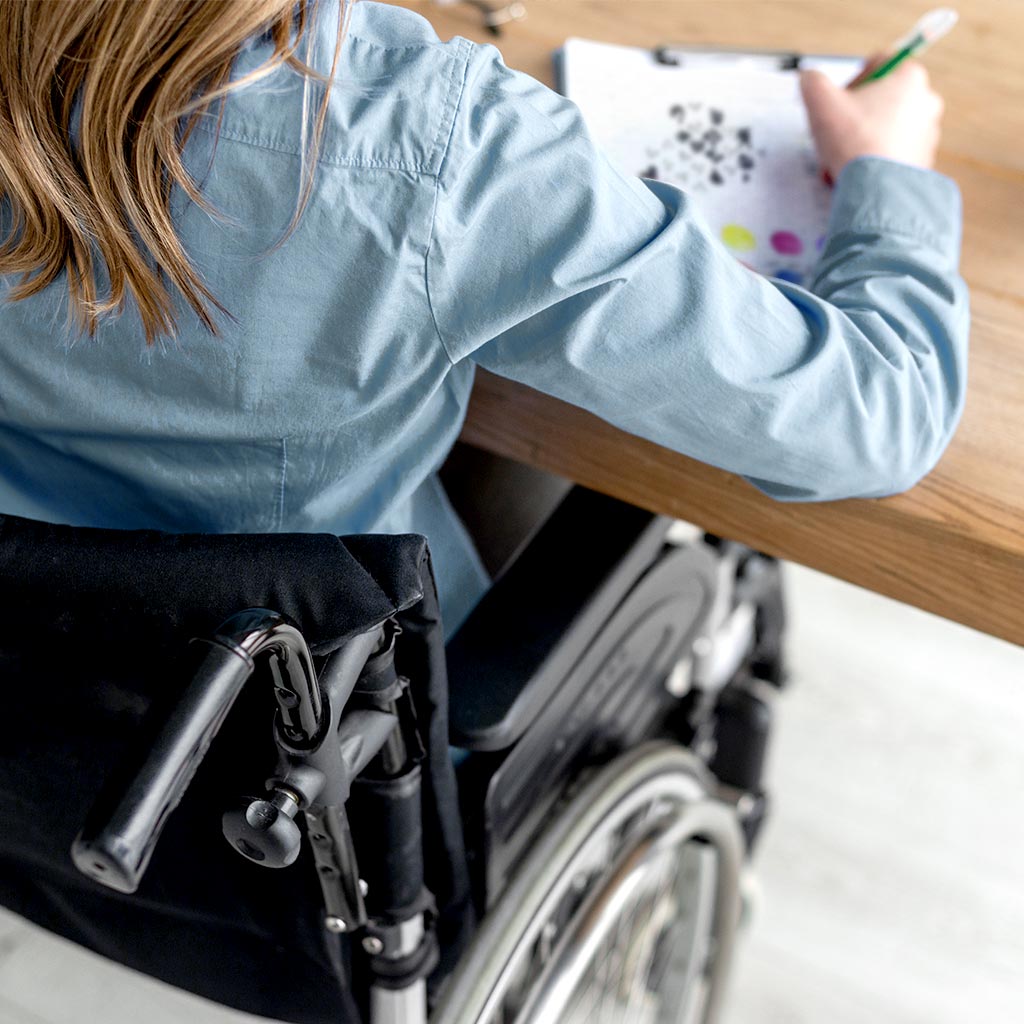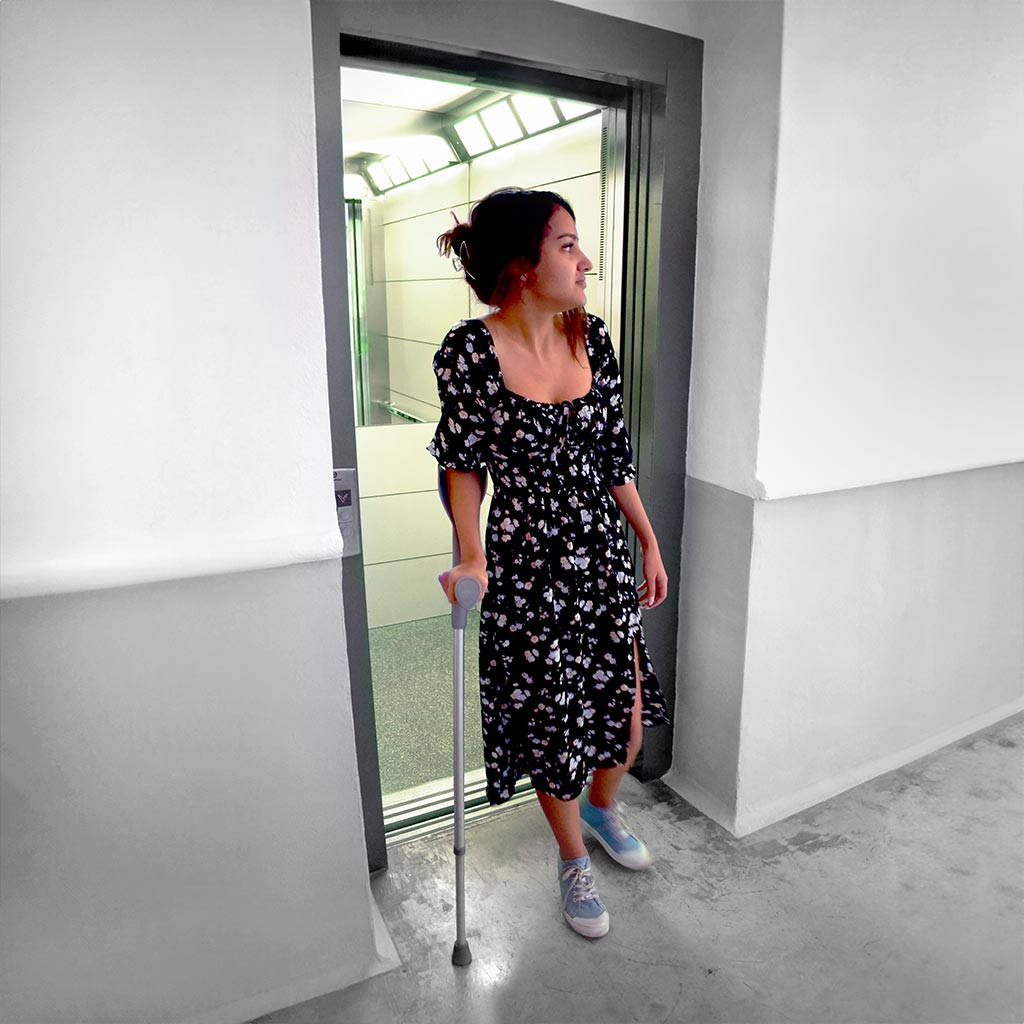 Disabled friendly
The building is specifically designed to meet modern design academy needs and requirements. It features lifts, smooth polished floors, ramps, special parking, and complete accessibility for wheelchair users.
At Marbella Design Academy, wheelchair users can move around with ease and have access to all classes and communal areas.
We welcome all wheelchair users who have a Passion for Design to become students at our lovely Academy. You will love it here!
Testimonial
"I am 21 years old and have muscular dystrophy and I am therefore permanently in a wheelchair. The reason for choosing Marbella Design Academy was that I really wanted to travel and I would like to study something creative. In this way I can do both, simultaneously. Marbella Design Academy is a school where students and teachers are from around the world, but I am the first and only one sitting in a wheelchair. The atmosphere at school is very open, all are friendly towards each other, and if we encounter a problem, there are people who can help us.
Marbella Design Academy is situated in Monda, a typical Spanish white village, near the Academy. Although there may be some bumps along the way, am I able to move into town sitting in my wheelchair. I'm really glad I took the plunge and went to Spain to study. I hope that there are several in my situation who dare to do the same in the future."
Lisbeth from Denmark
Graphic Design Student & Wheelchair user.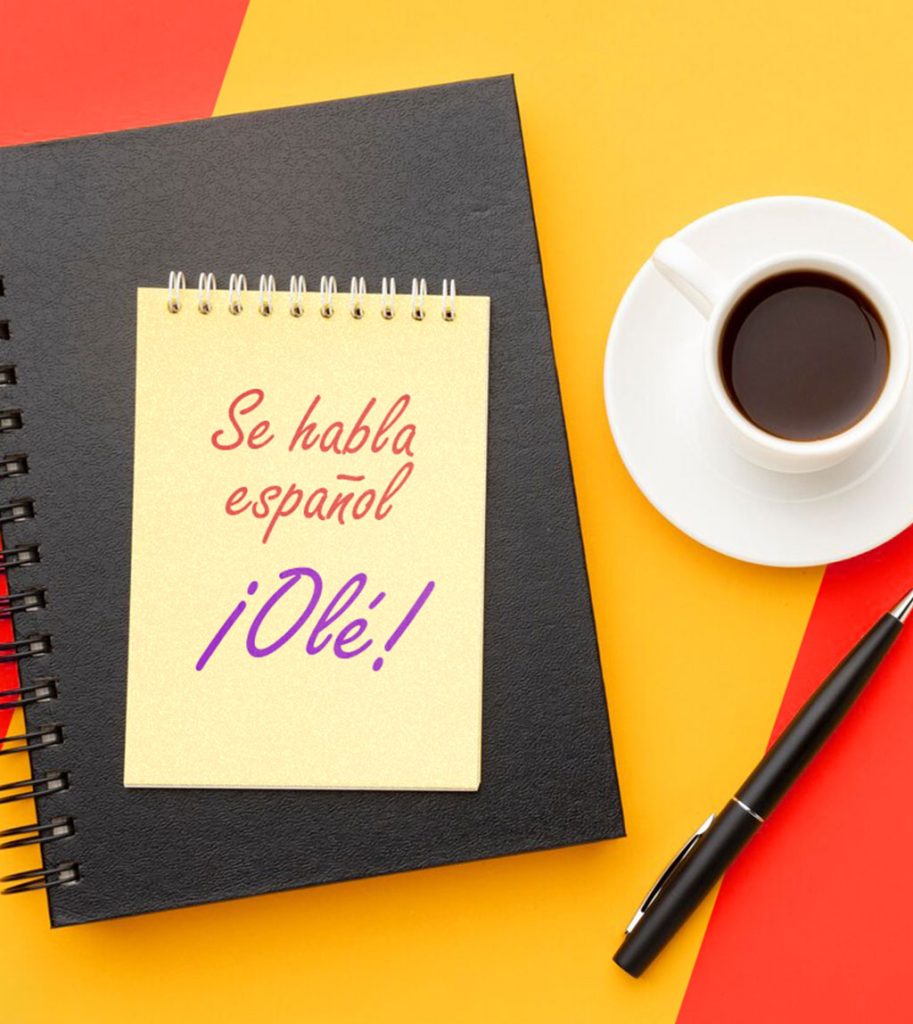 Free Spanish classes
Marbella Design Academy offers free voluntary Spanish classes twice a week, lasting an hour each, after 16:00 throughout all three years of study.
These optional classes are FREE and available to our students who may wish to learn this valuable new language skill.
Spanish is a widely spoken language with the highest current growth rate in the world. It ranks as the fourth most spoken language globally, with approximately 534 million speakers, following English, Mandarin Chinese, and Hindi.
Moreover, it is the official language in 21 different countries.
Our Spanish language course provides an ideal complement for students keen to integrate into Spain and learn about the society and culture.
We provide the classes at 2 different levels to all interested students: Beginners and Intermediate.
Hablamos! Ole!
Gaudi
Our Student Hub
Our outsourced student restaurant provides our staff and students with freshly cooked meals and a variety of healthy snacks and cakes every day – all at student-friendly prices!
Have a delightful morning meal, mid-morning snack, or afternoon lunch at Gaudi. The menu changes daily, but they always provide a main dish (with vegetarian options), along with freshly made sandwiches, cakes, snacks, fresh fruits, and juices. All of this is served in a warm and welcoming atmosphere.
All the ingredients are fresh to guarantee the best quality and flavor and to serve the best possible dishes and 'brainfood'.
The restaurant is open daily from 8.30 to 16.00, Monday to Friday, except during academic holidays.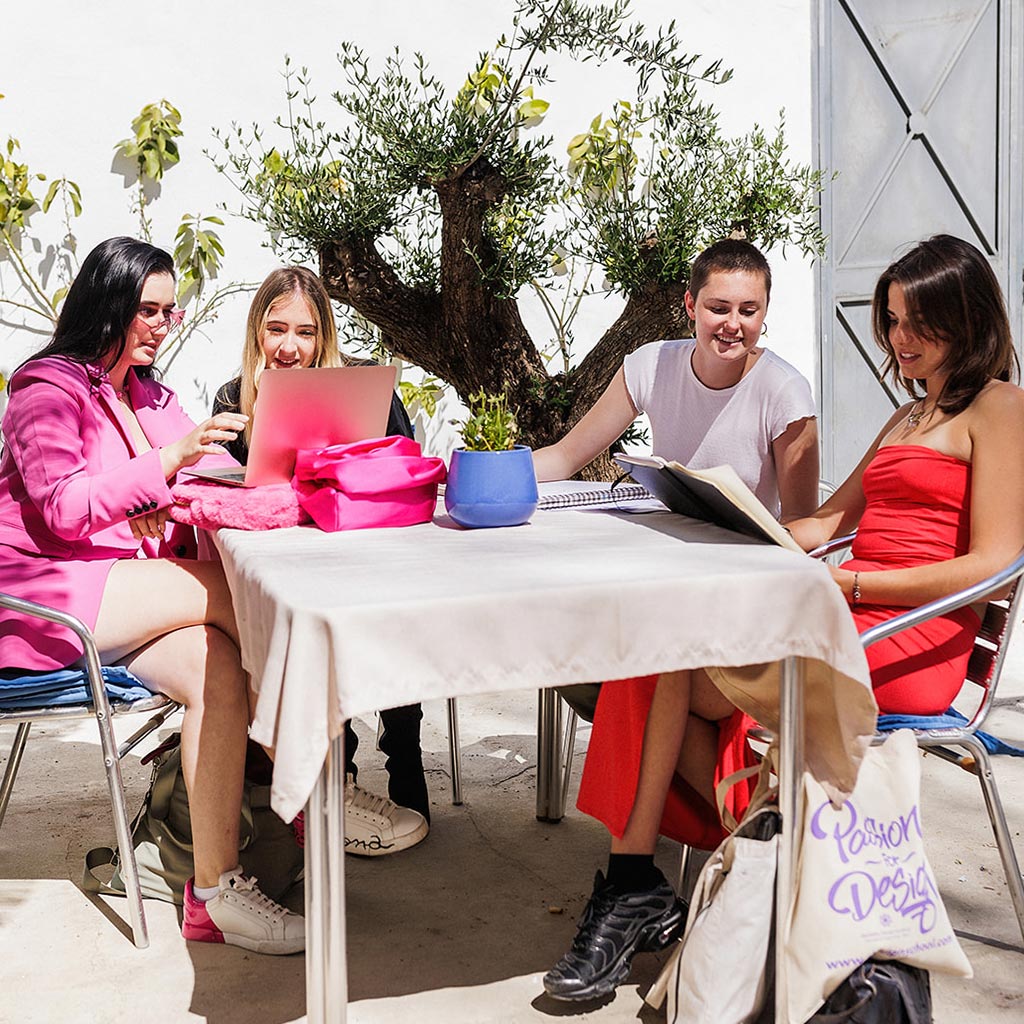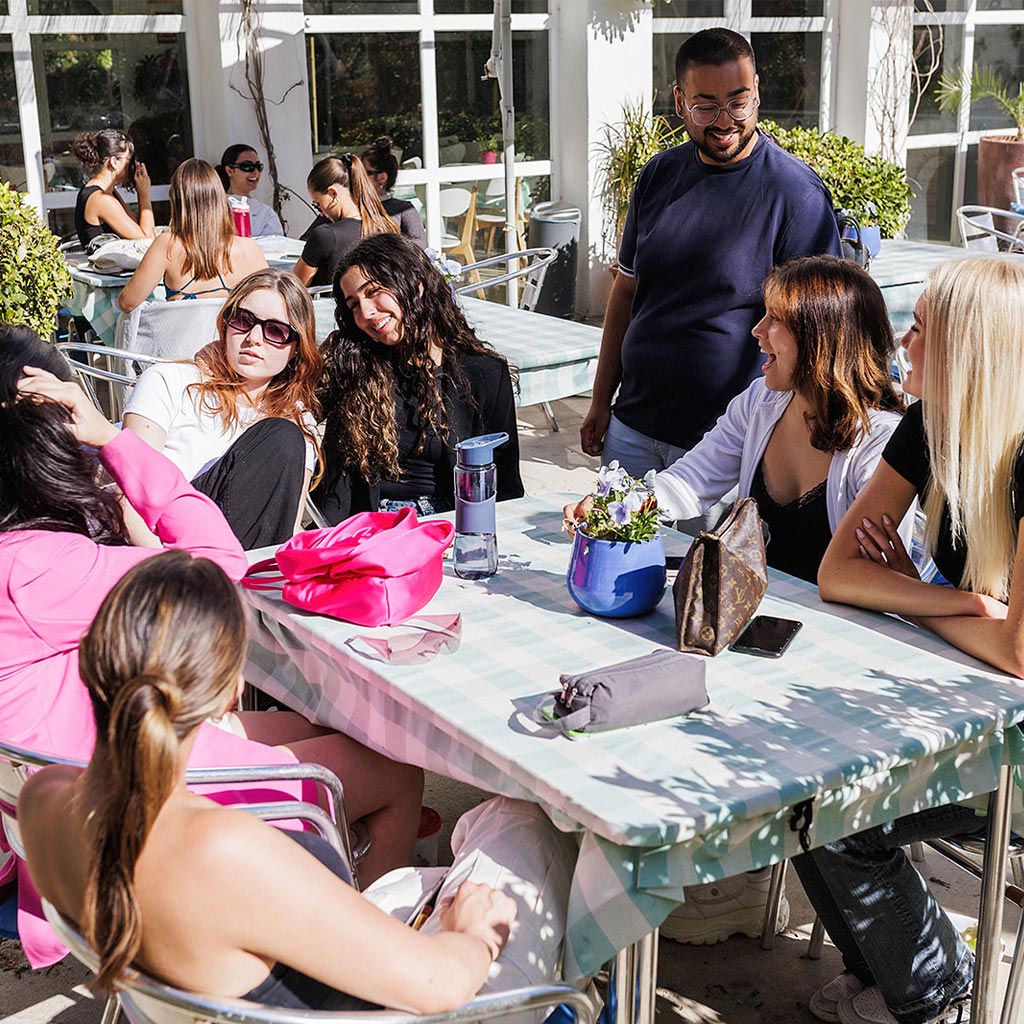 The Academy