Graphic Design & Media
More information
The commitment of our tutors is sharing their passion and enthusiasm for graphic design and to demonstrate that design is not just a job.
Designers can do more than just sell products to consumers; they have social and ethical responsibilities to the public. We want our students to know that they have the potential to use their design skills to help to change the world for better.
We aim to help students to be inspired, passionate, curious, socially and ethically responsible but, most of all, problem solvers and critical thinkers.
With a professional focus on visual communication and presentation,
Our students learn how to design everything from editorial design, packaging, merchandising, advertising campaigns, corporate logos and lots more.
Besides developing your freehand drawing skills, you will be taught how to use all the professional computer applications and software a Graphic Designer of today needs to know, such as Adobe Photoshop, Illustrator, InDesign, Premiere and After Effects. Advanced skills in these applications are a must for students to find employment, and at Marbella Design Academy you will be taught all these software packages from the first academic year.
The Bachelor of Arts validated Graphic & Media programme also covers wider aspects of the graphic fields such as web design, marketing, video editing and motion graphics.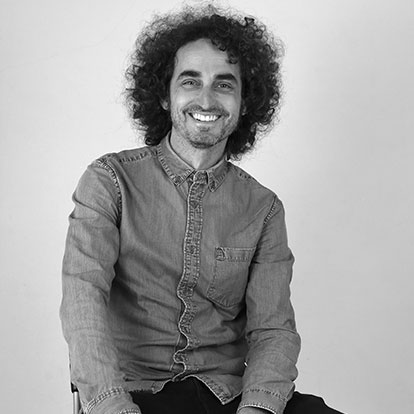 Alberto Leonardo
Head of our 3-year Bachelor of Arts with Honours validated programme in Graphic Design & Media at Marbella Design Academy.
Alberto is a professional graphic designer and illustrator. He has developed his career as an art director in many places like Madrid, Milan and Shanghai.
With many years of teaching experience, Alberto is fulfilling his greatest passion as Head of our Graphic Design & Media Department at our Academy.
Alberto is a graduate with a Master of Fine Arts in Computer Art, San Pablo CEU, Spain. Bachelor in Jewellery Design EASD Valencia, Spain. Fine Arts degree, Universidad Politécnica de Valencia, Spain.